Industrial AC Drives
1/8 – 2250 HP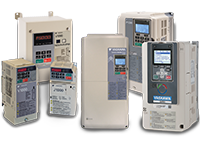 Our drives cover every automation application need in the industrial plant. These AC drives incorporate the latest technological advancements in AC motor speed control, made possible by experience and dedication to quality in design and manufacturing.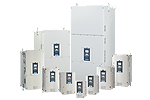 This collection offers full-featured and versatile variable speed drives for every automation application need in the industrial plant.
GA800 Drive Premium Performance Vector and Mobile Device Enabled up to 600HP
A1000 Drive High Performance Vector up to 1000HP
A1000 Configured Enclosed A1000 with Pre-Engineered Cabinet Options
U1000 Industrial MATRIX Drive Low Harmonic, Regenerative, and High Performance Vector up to 800HP
G7 Drive Long Motor Cable Problem Solver and High Performance Vector up to 500HP
G7 Configured Enclosed G7 with Pre-Engineered Cabinet Options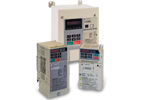 This collection of ac drives provides great performance in the most compact and economical packages for basic variable speed applications.
J1000 Drive Simple Variable Speed up to 7.5HP
V1000 Drive Open Loop Vector Performance up to 25HP
V1000-4X Drive Washdown version of V1000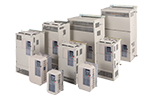 This collection of adjustable frequency drives is designed for variable torque applications like Fans and Centrifugal Pumps.
P1000 Drive Variable Torque Performance up to 1000HP
P1000 Configured Enclosed P1000 with Pre-Engineered Cabinet Options
P1000 Bypass Enclosed P1000 with Pre-Engineered Bypass Motor Control and Cabinet Options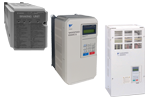 In addition to drives and drive packages, Yaskawa offers the following solutions to address your application power requirements.
D1000 Regenerative Converter Low Harmonic and Regenerative Bi-Directional DC Bus Supply up to 750HP
R1000 Regenerative Unit Uni-Directional Regenerative Module up to 300 kW
Dynamic Brake Module Brake Transistor Module up to 220kW
Single Phase Converter for achieving full drive output power with no single phase input derating
We offer a wide range of options for connecting the drive onto an industrial network. Take a look to see which protocol fits your needs.
DeviceNet ODVA Fieldbus Protocol
EtherNet-IP ODVA Ethernet-based protocol
EtherCAT Ethernet-based protocol supported by ETG
MECHATROLINK-II MMA Fieldbus protocol
MECHATROLINK-III MMA Ethernet-based protocol
Modbus TCP-IP Ethernet-based Modbus protocol using TCP/IP
Modbus RTU Modbus Fieldbus protocol using RS-485
PROFIBUS PI Fieldbus protocol
PROFINET PI Ethernet based protocol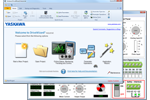 This collection of PC software support tools can be used for uploading and downloading drive parameters, calculating energy savings, creating application programs by arranging function block icons, as a programming simulator, or identifying how to reduce your operating costs and meet the harmonics compliance requirements.
DriveWizard Industrial Parameter Upload/Download Software
DriveWizard Mobile with Yaskawa Drive Cloud Cloud-connected Drive Mobile App
DriveWorksEZ Software Software Programming Tool
Programming Simulator Simulation Software
Energy Savings Predictor Energy Savings Software
Harmonics Estimator Harmonics Software